NC 811 - CALL BEFORE YOU DIG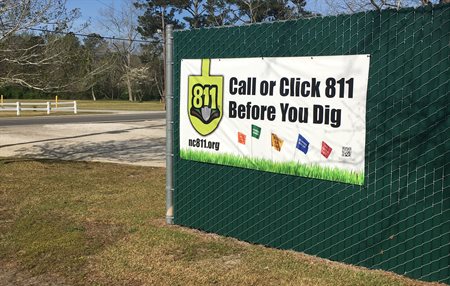 Did you know every six minutes an underground utility line is damaged because someone decided to dig without first calling 811. The risk of injury or even death is serious. Beyond the devastating risks of death or injury, consider the costs of repair, fines and even inconvenience. From putting in a fence, planting a tree or building a deck, knowing where the power and water lines are before you dig will save a lot of time, money and pain later. Call 811 before you dig.
Homeowners and Contractors
Today, more and more of the utility companies that supply your home with power, heat, water, telephone, sewer, gas and cable television service are delivering those services underground. It is also possible that these buried service lines are close to the surface, making digging a dangerous endeavor. Fortunately, you can find out where utility owned lines are buried on your property by dialing 811 . When you make that call, we will notify our member utility companies of your excavation needs and they will locate their buried utility lines, free of charge.
During your call to 811, you will be asked a series of questions designed to help pinpoint the location of your project.
Please Have the Following Ready When You Call 811:
Phone number
Address (including the county)
Is it inside or outside city limits?
Is it in a subdivision?
A cross-street name (nearest intersecting street & is it within a 1/4 mile)
Where exactly is the area you wish to have located? (are you marking the area with white paint or flags)
Work date, time, how long will the work take, what type of work is it and who is it for
At the conclusion of your call, you will be given a ticket number and a verbal list of utility companies that are notified by North Carolina 811. This does not mean each member listed owns buried utilities on your property. You will want to write down the names of the utility companies for easy reference. Every utility company is not a member with North Carolina 811.
Wait the Required Time
North Carolina law requires a three working day notice be given to the utility owners before your digging begins. Member facilities have three full working days, beginning the first working day after the notice is given, to mark the locate area requested for their underground utilities or notify the excavator of no conflict in that area.
Once all underground facilities have been marked, you may begin your excavation activities. It may be quite surprising, but damage to buried utility lines can occur when doing typical home improvement projects such as putting up a fence, mailbox post, building a deck, planting trees or shrubbery. If you are beginning a home improvement project that requires digging or adjusting the grade of your property, please contact North Carolina 811.
Members are not responsible for marking private lines. Water, sewer and storm drain lines are marked within the right of way or to the meter, and not on private property. Lines from the right of way or meter to the residence or business are private lines and you will need to contact a private line locator to have these lines located. You must contact any non-member facility owners not listed on your location request directly to request their facilities to be located and marked.
Respect the Marks
Before digging, be sure that all utilities have responded to your locate request. The North Carolina 811 representative will advise you during your call of the member utility owners we notify for you. The underground facilities located on your property will be identified by color coded paint, stakes or flags. It is the responsibility of the caller to contact a utility locating company to have any private lines located. Once the underground facilities have been located it is very important that the stakes, flags or paint not be disturbed. Refer to the color code chart as a guide to identify the marked underground facility.
The width of the location tolerance zone includes 24 inches on each side of the utility plus the width of the utility itself. If you must dig within the tolerance zone, digging with caution by hand is recommended to help reduce the possibility of damage to the located utility. If a damage occurs, you will need to notify the facility owner directly, and you can dial 811 to enter a report of damage to underground facilities. In the event of a gas product release, please quickly and safely move up wind and dial 911 to report.
To learn more about NC811, visit their website.