Aquifer-Sourced Reverse Osmosis Water Treatment Plant
SOURCE TO STREAM, CLEAN, CONTAMINANT FREE DRINKING WATER
2023 - NO RATE INCREASE!
Updated 9/1/23
The H2GO water lines have been flushed. There are a few dead-end lines still to be flushed, however, this is part of regular distribution system maintenance. If you've been waiting for the system flushing to end, there's no longer a need to continue with your contracted outside water service.
The State requires public water systems to include disinfectant in the treatment of potable water. Chlorine residual in the finished water leaving the RO plant is roughly at 0.80 ppm, and in the furthest reaches of the H2GO distribution system the chlorine residual is about 0.2 to 0.3 ppm. For reference, 0.20 ppm chlorine residual is the lowest residual required and 4.00 ppm is the highest residual allowed per the State.
Some customers have reported noticeable chlorine taste in the water, this is to be expected after drinking bottled water for an extended period of time. If the chlorine odor or taste is bothersome, refrigerator filters and Brita type filters do reduce odor and taste of chlorine in drinking water.
CONSUMERS BEWARE
There are numerous water softener/filtration providers scaring consumers into unnecessary purchases.
Here is some helpful information:
The water leaving the RO plant has a pH anywhere from 7.4 - 7.8.
Alkalinity is roughly 75.
Average hardness for the month of July 2023 - 73 mg/L as CaCO3 (ppm), which is considered slightly to moderately hard.
Average hardness for the month of August 2023 - 72 mg/L CaCO3 (ppm).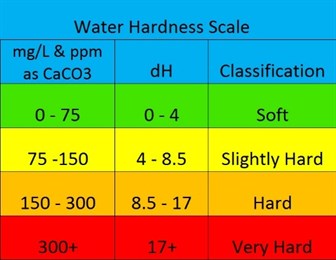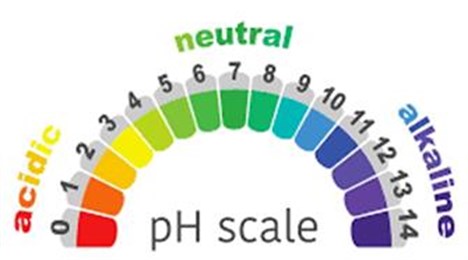 TDS (total dissolved solids) Tests
TDS (total dissolved solids) tests are being used by softener/filtration providers and consumers to measure water quality. A TDS test is not a reliable water quality test.
The TDS test provides a whole number, with no indication of what the number represents. Electrolytes increase TDS, good minerals increase TDS.
Our water treatment process includes adding calcium carbonate, which adjusts the pH, hardness, and alkalinity, increasing the TDS count. The State required addition of disinfectant in a public water distribution system also affects the TDS whole number.
Update - 7/13/23
Distribution System Flushing Update
The aggressive nature of the "flushing program" involved the transition from water provided by the county to water exclusively sourced from deep aquifers and treated at the H2GO Reverse Osmosis Water Treatment Plant while simultaneously opening fire hydrants and water line dead ends "flushing"; allowing water to quickly exit the distribution system.
This flushing process has been a success with water test results indicating undetected PFAS analytes.
The majority of the distribution system has been flushed. H2GO will continue to flush water line dead ends; routine maintenance, ongoing throughout the year.
Flushing of distribution lines is essential for maintaining the health of the distribution system. There are no additional chemicals used in the process.
Update - 6/21/23
H2GO'S Water Test Confirm Clean Water!
On May 30th, 2023, Brunswick Regional Water and Sewer turned on the Reverse Osmosis Water Treatment Plant pumping water sourced exclusively from contaminant free aquifers 400' – 600' deep, already confirmed with non-detect levels of manmade contaminants.
On June 5th, 2023 water samples were pulled from numerous locations within the H2GO distribution system to be tested for 40 different PFAS analytes.

TODAY, JUNE 21ST THE WATER TEST RESULTS ARE IN;
H2GO WATER SUPPLY IS CLEAN AND FREE OF INDUSTRIAL CONTAMINANTS!

The Board of Commissioners' meeting held June 21st included approval of the 2023-2024 budget, which presented
NO RATE INCREASE!

H2GO's distribution system Flushing Program is still underway, expected to last another four to six weeks, possibly longer if needed. The flushing program consists of opening fire hydrants and water line dead ends; it does not include the addition of any chemicals. "Line flushing is a routine distribution maintenance task, which is essential to maintaining a healthy distribution system. The current aggressive transitional flushing program will be followed by routine flushing as needed. H2GO will notify the public when the current flushing program is complete," noted Stephanie Blair, Communications Director at H2GO.
Update - 5/25/23
LELAND, NC – H2GO's Aquifer-Sourced Reverse Osmosis Water Treatment Plant will begin pumping aquifer-sourced RO treated water into the distribution system on Tuesday, May 30th.
While new reverse osmosis treated water supplies are pumped into the water distribution system, H2GO crews will be conducting an aggressive and robust flushing program. Flushing of the water lines is necessary to purge the distribution system of existing water that contains chloramine disinfectants and unregulated contaminants; scour pipes to remove biofilms, organic and mineral deposits; and to restore the health of the water distribution system. The disinfectant used in the water supplies will be permanently changed from the County's chloramines to chlorine as part of H2GO new RO treatment process.

Customers may experience fluctuations in water pressure, and may taste, see, and smell a noticeable decline in water quality during the flushing program. The flushing program may take weeks or longer as the crews flush nearly 200 miles of H2GO's water distribution system pipes. "As we transition from County water supplies to H2GO's reverse osmosis water, the flushing program will likely cause pressure fluctuations and temporary water quality issues. This is to be expected. We ask customers to please be patient as we work to return the water distribution system to normal operations," noted Bob Walker, Executive Director at H2GO. During the flushing process, public water supplies will continue to meet all regulatory requirements.

When the flushing program is complete, H2GO public water supplies will be free of harmful contaminants such as 1,4 Dioxane, GenX and other per-fluorinated compounds. H2GO's Reverse Osmosis treated public water supplies will be of the highest quality.

On June 5th H2GO will pull multiple water samples from the distribution system and send them to an outside laboratory requesting expedited test results. H2GO will test for 40 different PFAS analytes, and will notify the public as soon as test results verify "non-detected" levels of the PFAS analytes in the distribution system.
"Our team has eagerly anticipated this day, and we know our customers have as well. Providing a new water source to our district is a crucial step in the right direction for our growing community. H2GO's staff and commissioners are truly grateful for the tremendous support we've received throughout this major undertaking. Our team is committed to providing the highest levels of water and sanitary sewer services," said Stephanie Blair, Communications Director at H2GO.
---
CLICK HERE TO LEARN MORE ABOUT THE WATER TREATMENT PROCESSES !
---
AQUIFER-SOURCED REVERSE OSMOSIS WATER TREATMENT PLANT QUESTIONS & ANSWERS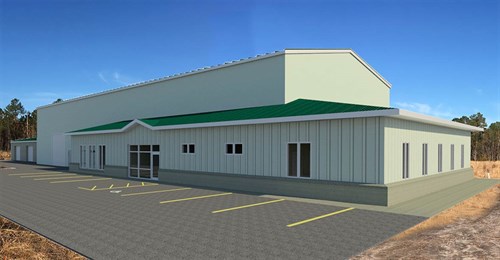 September 2022 Progress Video



May 2022 Progress Video



March 2022 Progress Video



February 2022:


February 24, 2022:
The metal roof is installed over the main building and masonry work continues.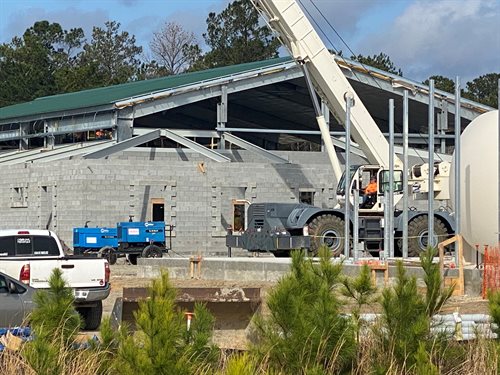 February 9, 2022:
The remaining calcite tanks were delivered to the project site and setup.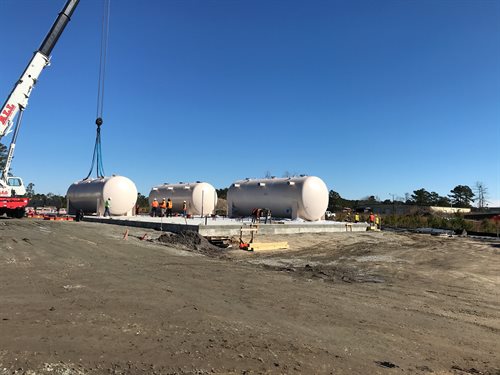 February 2, 2022:
Contractors began installing the metal roof on the plant.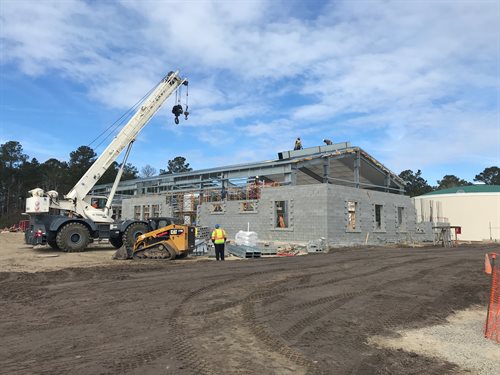 January 2022:


January 5, 2022:
Contractors began pouring the foundation for the calcite building.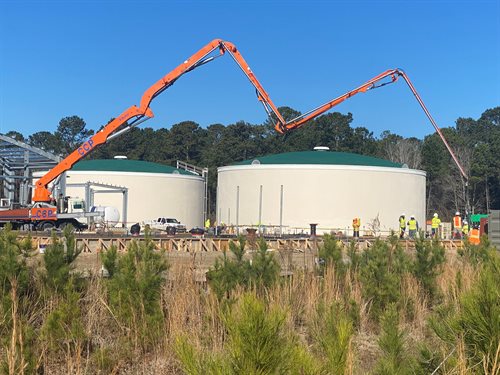 January 5, 2022:
Contractors installed the truss on the building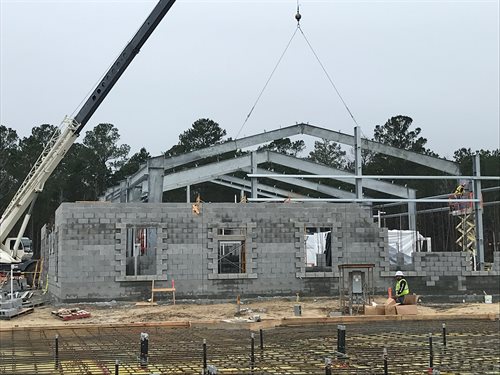 December 2021:


December 20, 2021:
They delivered one of three calcite storage tanks to the project site.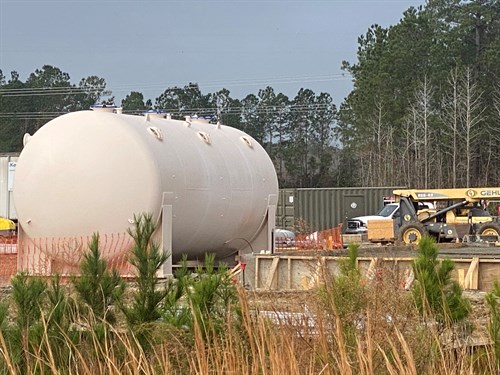 December 17, 2021:
They made more progress on exterior masonry work.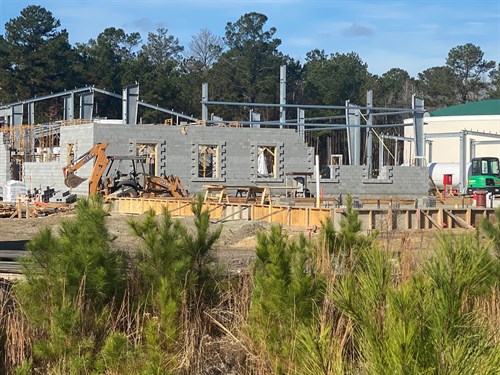 December 10, 2021:
Interior and exterior masonry work began for the walls. They set the piers for the calcite beds.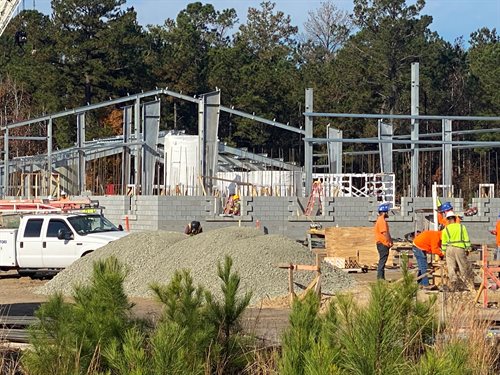 November 2021:


November 19, 2021: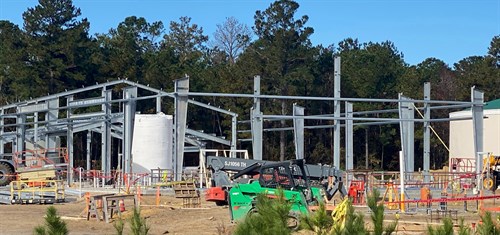 November 10, 2021:
​Steel beams for the walls of the plant's building were erected.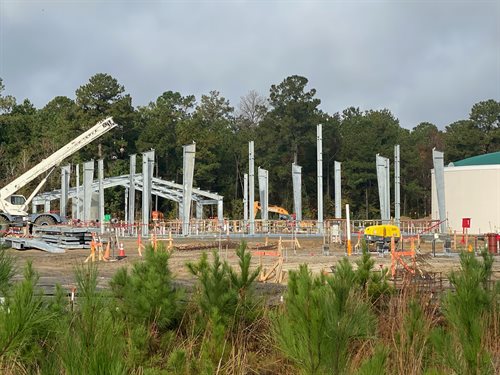 November 5, 2021:
Ground storage tanks were painted.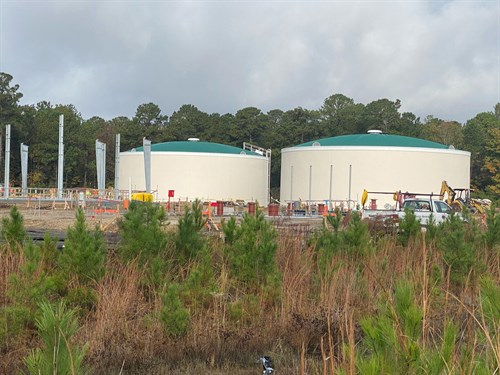 October 29, 2021:
H2GO held a progress tour for their media partners.

October 2021:


August 2021:
Crews completed the concentrate line. The raw water lines and the finished water lines are under construction. Crews are almost done with all the underground work, in terms of the backwash tank, electrical, and plumbing for the main building, and footers for other buildings.

July 2021:


June 2021:


May 2021:


May 6, 2021:
Contractors began pouring the foundation for the one-million-gallon ground storage tanks.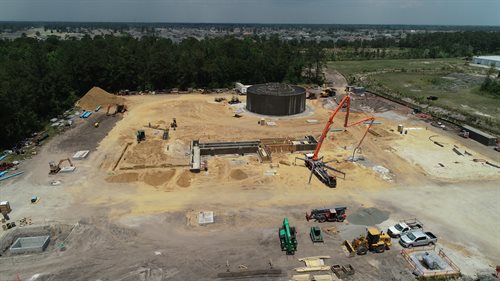 April 2021:


March 2021:
Contractors were able to complete preloading for ground storage tanks. Lifts and compaction for the calcite beds have been completed. Underground site piping has been completed and entrance driveway has been finished. Excavation and electrical work is in place for the pipe gallery.

January 14, 2021:
Contractors installed the discharge pipe and began installation of the river diffuser.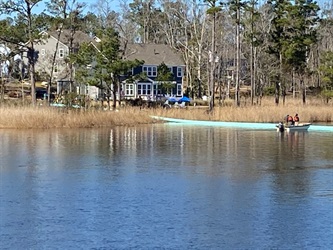 December 2020:
Site work on the aquifer-sourced Reverse Osmosis Water Treatment Plant begins.

October 7, 2020:
H2GO holds a groundbreaking ceremony to commemorate restarting construction on the much anticipated aquifer-sourced Reverse Osmosis Water Treatment Plant. Those in attendance included representatives from MB Kahn Construction Company, Carolina Civil Works, Carmichael Construction, The Wooten Company, local leaders from the Towns of Belville and Leland, the North Brunswick Chamber of Commerce, H2GO staff, and current and former H2GO board members involved in the advancement of the project.


September 15, 2020:
The board voted unanimously to approve three contracts ($21,400,000.00 contract for M.B. Kahn Construction Company Inc. to build the RO plant, a $3,455,901.00 contract for Carmichael Construction Company Inc. to install lines and a river diffuser for the concentrate discharge to the Brunswick River , and $5,998,430.26 for raw and finished water mains built by Carolina Civil Works.)

September 1, 2020:
The Local Government Commission's (LGC) approved H2GO's bond financing request.

July 21, 2020:
The board approved a proposal by First Bank submitted on July 21st 2020 to purchase the District's Revenue Bond, Series 2020, at an interest rate of 2.65% which includes a term of 20 years, and a maximum principal amount of $42,000,000.

June 5, 2020:
All assets were returned to H2GO from The Town of Belville.

May 18, 2020:
Judge Henry entered an Order granting the Joint Motion and ruling in favor of The Town of Belville and H2GO. This ruling allowed Belville to return the assets of H2GO to H2GO and allow H2GO to resume construction of the much anticipated RO plant.

May 1, 2020:
The Honorable Charles Henry, Senior Resident Superior Court Judge, heard a Joint Motion that had been filed by Brunswick Regional Water and Sewer H2GO and the Town of Belville, asking the court to lift the stay on the current permanent injunction filed in July of 2019 that was preventing Belville from returning the assets of H2GO to H2GO and preventing H2GO from proceeding with the construction of the aquifer sourced RO plant.

November 5, 2019:
The board shifts to a 4-1 pro-RO majority with the election of Steve Hosmer and Barry Laub.

July 2019:
Superior Court Judge Charles Henry notified all parties in the H2GO case that he intended to enter a permanent injunction.

April 22, 2019:
The Town of Belville votes to appeal judge's decision.

August 15, 2018:
Superior Court Judge Charles Henry ruled the transfer of H2GO unlawful.

August 15, 2018:
Superior Court Judge Charles Henry dismissed two out of eleven of Leland and H2GO's claims against Belville and denied Belville's motion to dismiss.

March 21, 2018:
North Carolina's Chief Justice designated the case as "exceptional", reassigning the case to Superior Court Judge Charles Henry.

December 13, 2017:
Brunswick County Superior Court Judge Thomas Lock orders things to remain as they were on November 28, meaning the Town of Belville remained the legal owner of H2GO's assets, while H2GO continued to manage the utility.

December 1, 2017:
The Town of Leland filed a temporary restraining order against H2GO and the Town of Belville over the sale of its assets. The judge granted the restraining order.

November 28, 2017:
The board voted to sell its assets to the Town of Belville after the November election saw a shift in pro-RO board to an anti-RO board. The board felt this was necessary to keep the project alive and Belville served as custodians of H2GO's assets until the project could resume.

August 22, 2017:
The board voted on a resolution to transfer $5.7 million from three different funds to go toward paying $2.75 million to Carolina Civil Works and $4.66 million to State Utility Contractors Inc. to begin construction, with the intent to reimburse the funds once the financing is approved by the LGC. The resolution passed with a 3-2 vote.

July 18, 2017:
The board voted 3-2 to approve five contracts ($16,995,000 contract for State Utility Contractors Inc. to build the RO plant, a $1,725,200 contract for TA Loving Co. to bury a concentrated discharge line to take brine water from the RO plant to the Brunswick River discharge, $4,622,400 for raw and finished water lines built by Hall Contracting Corp. and $2,755,346 for a regional pump station and force main on U.S. 17 to be built by Carolina Civil Works Inc.) contingent on approval of the Local Government Commission's (LGC) revenue bond approval for a $25 million bond for construction of their Reverse Osmosis (RO) Water Treatment Plant.

The Board also voted 3-2 at the same meeting to refinance the bond through First Bank in Leland.

May 30, 2017: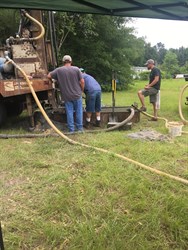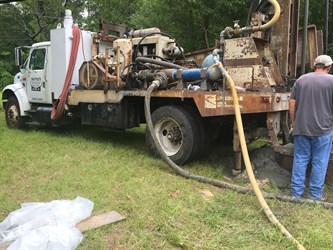 Skipper's Well Drilling and Pump Service began drilling on well-site #5 on Nuns Trail.

May 10, 2017:
The board voted 3-1 to approve $3,348,000 in contracts for the construction of wells and the procurement of plant equipment during a special meeting. Only two bids were received for the well construction. Skipper's Well Drilling and Pump Service of Leland won the contract with a $1,634,000 bid. The bid process for procuring plant equipment had a few twists. One company was eliminated for not including sales tax while another firm was rejected for not following bid specifications for a pump. From the three remaining bidders, Harn RO Systems of Venice, Florida won the contract for $1,714,000. This put H2GO $650,000 under budget thus far.

May 8, 2017:
The North Carolina Department of Environmental Quality issued a National Pollution Discharge Elimination System permit to discharge brine wastewater into the Brunswick River from the plant. "Based on the review of the public record, written and oral public comments, the North Carolina General Statutes and Administrative Code, and discussions with other Division of Water Resources (DWR) staff, I recommend to the Division Director that the draft NPDES permit for the Brunswick Regional Water and Sewer H2GO Water Treatment Plant be modified and issued…". The primary permit modification includes a provision to implement a one-year supplemental monitoring program, to be coordinated with the UNCW Center for Marine Science, to verify mixing and dilution predictions established to ensure environmental protection of the river.

June 2016:
The Wooten Company finalized the PER detailing existing water supplies, future conditions, project alternatives, recommended plan, and plan implementation and Raftelis Financial Consultants prepared an updated Economic Feasibility Study for the proposed Reverse Osmosis Water Treatment Plant based on probably construction costs, detailed O&M costs, water to be produced, escalation factors, growth assumptions, and future capital improvements.

October 2015-January 2016:
RO pilot plant testing will be performed for a 90-day period. Using water from the newly constructed production wells, the pilot plant was operated 24/7 to analyze key operating parameters (e.g.., membrane flux, permeate recovery and quality, concentrate quality and flow, pre and post treatment chemical dosing, operating pressures, etc.).

June 2015-October 2015:
Two (2) production wells were recently installed at the proposed RO plant site: one 12" well was installed 400' deep into the Lower Peedee aquifer and one 12" well was installed 600' deep into the Black Creek aquifer. Pump testing performed to-date indicates better performance rates than from the test wells and preliminary sampling indicates better water quality than from the test wells.

October 2013-July 2015:
Based on the North Carolina State Environmental Policy Act (SEPA), a comprehensive Environmental Assessment (EA) for the proposed RO project was developed.

October 2013-February 2014:
Brackish concentrate, or reject water from RO plant operations are proposed to be discharged to the Brunswick River. CORMIX is an expert rule-based system for the analysis, prediction, and design of discharges into water bodies, i.e.., the Brunswick River. Based on the receiving stream characteristics obtained from field investigations, and concentrate water chemistry, CORMIX predicts mixing and plume characteristics from the proposed outfall.

March 2013-August 2013:
Based on the Water Supply Feasibility Study, H2GO commissioned Raftelis Financial Consultants to prepare a Feasibility Analysis to evaluate the economic feasibility of building a new RO water treatment plant versus continuing to purchase wholesale water from BrunsCo PU. The analysis focused on three primary measures: 1) differences in projected annual costs and expected impacts on rates and customers; 2) Net Present Value (NPV) of total costs over a 20-year planning period; and 3) reserves generated from targeted debt coverage.

May 2012-June 2013:
Under GMA's guidance, H2GO installed 4 test wells - two wells at our elevated water tank site, and two wells on Trade Street. These locations were selected to provide a hydrogeologic cross section from southeast to northwest through H2GO's service area. At each test well site, one 4" well was installed 400' deep into the Lower Peedee aquifer and one 4" well was installed 600' deep into the Black Creek aquifer. Pump tests were performed and water samples were analyzed from each well at each site.

April 2012-August 2013:
H2GO evaluated each RO plant, comparing treatment capacities; water source and supply characteristics; pre-treatment and post-treatment operations; permeate recovery rates; concentrate characteristics and outfall locations; operation and maintenance costs; and facility location in relationship to their community. The H2GO Board, Leland Town Council, Belville Commissioners and staff toured RO plants in NC and discussed with their administrators and plant operators the advantages of RO treatment.

March 2012:
The Water Supply Feasibility Study was completed and determined that no additional supply allocations from LCFW&SA were available to pursue surface water supplies and treatment; that sustainable and treatable groundwater supplies from the Lower Peedee and the Black Creek aquifers underlie the H2GO service area; and that preliminary cost comparisons indicate brackish groundwater supplies with RO treatment are favorable over continued purchase of wholesale water from BrunsCo PU.

July 2011:
H2GO commissioned a Water Supply Feasibility Study to evaluate alternative water supplies to meet future needs based on anticipated future service areas and customer growth over a 20-year planning period. This study evaluated the feasibility of 1) obtaining surface water (Cape Fear River) supplies from the LCFW&SA with a new surface water treatment plant; 2) the feasibility of developing groundwater supplies for treatment in a new reverse osmosis (RO) treatment plant; and 3) comparing those cost estimates to continued purchase of finished water from BrunsCo PU. As part of the alternative water supply evaluations, Groundwater Management Associates (GMA) performed a Hydrogeologic Framework Study and Preliminary Well field Evaluation to target aquifers for future exploration that have potential to provide sustainable and treatable brackish groundwater supplies for an RO treatment plant.