Reverse Osmosis WTP
Reverse Osmosis Water Treatment Plant Progress
As we continue to take the necessary and proper steps towards ensuring our customers have high quality, low cost water for decades to come, we want to keep you informed on what is happening.

August 22, 2017:
The board voted on a resolution to transfer $5.7 million from three different funds to go toward paying $2.75 million to Carolina Civil Works and $4.66 million to State Utility Contractors Inc. to begin construction, with the intent to reimburse the funds once the financing is approved by the LGC. The resolution passed with a 3-2 vote.

July 18, 2017:
The board voted 3-2 to approve five contracts ($16,995,000 contract for State Utility Contractors Inc. to build the RO plant, a $1,725,200 contract for TA Loving Co. to bury a concentrated discharge line to take brinewater from the RO plant to the Brunswick River discharge, $4,622,400 for raw and finished water lines built by Hall Contracting Corp. and $2,755,346 for a regional pump station and force main on U.S. 17 to be built by Carolina Civil Works Inc.) contingent on approval of the Local Government Commission's (LGC) revenue bond approval for a $25 million bond for construction of their Reverse Osmosis (RO) Water Treatment Plant.

The Board also voted 3-2 at the same meeting to refinance the bond through First Bank in Leland.

May 30, 2017: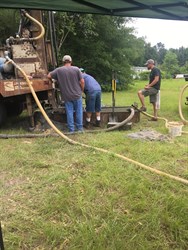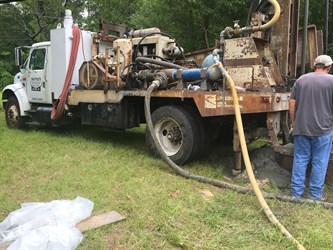 Skipper's Well Drilling and Pump Service began drilling on well-site #5 on Nuns Trail.

May 10, 2017:
The board voted 3-1 to approve $3,348,000 in contracts for the construction of wells and the procurement of plant equipment during a special meeting. Only two bids were received for the well construction. Skipper's Well Drilling and Pump Service of Leland won the contract with a $1,634,000 bid. The bid process for procuring plant equipment had a few twists. One company was eliminated for not including sales tax while another firm was rejected for not following bid specifications for a pump. From the three remaining bidders, Harn RO Systems of Venice, Florida won the contract for $1,714,000. This put H2GO $650,000 under budget thus far.

May 8, 2017:
The North Carolina Department of Environmental Quality issued a National Pollution Discharge Elimination System permit to discharge brine wastewater into the Brunswick River from the plant. "Based on the review of the public record, written and oral public comments, the North Carolina General Statutes and Administrative Code, and discussions with other Division of Water Resources (DWR) staff, I recommend to the Division Director that the draft NPDES permit for the Brunswick Regional Water and Sewer H2GO Water Treatment Plant be modified and issued…". The primary permit modification includes a provision to implement a one-year supplemental monitoring program, to be coordinated with the UNCW Center for Marine Science, to verify mixing and dilution predictions established to ensure environmental protection of the river.

June 2016:
The Wooten Company finalized the PER detailing existing water supplies, future conditions, project alternatives, recommended plan, and plan implementation and Raftelis Financial Consultants prepared an updated Economic Feasibility Study for the proposed Reverse Osmosis Water Treatment Plant based on probably construction costs, detailed O&M costs, water to be produced, escalation factors, growth assumptions, and future capital improvements.

October 2015-January 2016:
RO pilot plant testing will be performed for a 90-day period. Using water from the newly constructed production wells, the pilot plant was operated 24/7 to analyze key operating parameters (e.g., membrane flux, permeate recovery and quality, concentrate quality and flow, pre and post treatment chemical dosing, operating pressures, etc.).

June 2015-October 2015:
Two (2) production wells were recently installed at the proposed RO plant site: one 12" well was installed 400' deep into the Lower Peedee aquifer and one 12" well was installed 600' deep into the Black Creek aquifer. Pump testing performed to-date indicates better performance rates than from the test wells and preliminary sampling indicates better water quality than from the test wells.

October 2013-July 2015:
Based on the North Carolina State Environmental Policy Act (SEPA), a comprehensive Environmental Assessment (EA) for the proposed RO project was developed.

October 2013-February 2014:
Brackish concentrate, or reject water from RO plant operations are proposed to be discharged to the Brunswick River. CORMIX is an expert rule-based system for the analysis, prediction, and design of discharges into water bodies, i.e., the Brunswick River. Based on the receiving stream characteristics obtained from field investigations, and concentrate water chemistry, CORMIX predicts mixing and plume characteristics from the proposed outfall.

March 2013-August 2013:
Based on the Water Supply Feasibility Study, H2GO commissioned Raftelis Financial Consultants to prepare a Feasibility Analysis to evaluate the economic feasibility of building a new RO water treatment plant versus continuing to purchase wholesale water from BrunsCo PU. The analysis focused on three primary measures: 1) differences in projected annual costs and expected impacts on rates and customers; 2) Net Present Value (NPV) of total costs over a 20-year planning period; and 3) reserves generated from targeted debt coverage.

May 2012-June 2013:
Under GMA's guidance, H2GO installed 4 test wells - two wells at our elevated water tank site, and two wells on Trade Street. These locations were selected to provide a hydrogeologic cross section from southeast to northwest through H2GO's service area. At each test well site, one 4" well was installed 400' deep into the Lower Peedee aquifer and one 4" well was installed 600' deep into the Black Creek aquifer. Pump tests were performed and water samples were analyzed from each well at each site.

April 2012-August 2013:
H2GO evaluated each RO plant, comparing treatment capacities; water source and supply characteristics; pre-treatment and post-treatment operations; permeate recovery rates; concentrate characteristics and outfall locations; operation and maintenance costs; and facility location in relationship to their community. The H2GO Board, Leland Town Council, Belville Commissioners and staff toured RO plants in NC and discussed with their administrators and plant operators the advantages of RO treatment.

March 2012:
The Water Supply Feasibility Study was completed and determined that no additional supply allocations from LCFW&SA were available to pursue surface water supplies and treatment; that sustainable and treatable groundwater supplies from the Lower Peedee and the Black Creek aquifers underlie the H2GO service area; and that preliminary cost comparisons indicate brackish groundwater supplies with RO treatment are favorable over continued purchase of wholesale water from BrunsCo PU.

July 2011:
H2GO commissioned a Water Supply Feasibility Study to evaluate alternative water supplies to meet future needs based on anticipated future service areas and customer growth over a 20-year planning period. This study evaluated the feasibility of 1) obtaining surface water (Cape Fear River) supplies from the LCFW&SA with a new surface water treatment plant; 2) the feasibility of developing groundwater supplies for treatment in a new reverse osmosis (RO) treatment plant; and 3) comparing those cost estimates to continued purchase of finished water from BrunsCo PU. As part of the alternative water supply evaluations, Groundwater Management Associates (GMA) performed a Hydrogeologic Framework Study and Preliminary Wellfield Evaluation to target aquifers for future exploration that have potential to provide sustainable and treatable brackish groundwater supplies for an RO treatment plant.