Inflow and Infiltration
Brunswick Regional Water and Sewer H2GO's Sanitary Sewer System is designed to carry wastewater from homes and businesses and convey that wastewater to Brunswick County's Northwest Wastewater Treatment Plant and H2GO's Belville Wastewater Treatment Plant. When storm and/or ground water enters the system through inflow and infiltration (I&I), the sanitary sewer system can become overloaded and potentially result in sewer backups or sanitary sewer overflows, which negatively affect residents and the environment. Typical sources of I&I include cracked pipes as well as sump pumps, downspouts, and foundation drains that have been directly connected to the sanitary sewer system. By working together, customers, residents, and H2GO personnel can reduce sources of I&I and help protect the environment from sanitary sewer backups and overflows as well as keep fees, sewer system costs, and treatment costs down.
Definitions
Inflow
Inflow is surface water that enters the wastewater system from yard, roof, and footing drains, from cross-connections with storm drains, downspouts, and through holes in manhole covers. Inflow occurs because of storm events such as rainfall, snowfall, springs, or snow melt that contribute to excessive sewer flows. See picture above for a graphical view of the sources of inflow.
Infiltration
Infiltration is groundwater that enters sanitary sewer pipes (interceptors, mains, manholes, or laterals) through holes, breaks, joint failures, connection failures, and other openings. Storm events can trigger a rise in groundwater levels and increase infiltration flows. See picture above for a graphical view of the sources of infiltration.
I&I
Inflow and Infiltration together are known as I&I
Private Sewer Lateral
A private sewer lateral is a sewer pipe that connects a building's internal sewer plumbing to the public sanitary sewer system. The sewer lateral is part of the private plumbing system and is maintained by the property owner.
Sanitary Sewer
The sanitary sewer is a system of pipes and devices that are designed to carry sanitary sewer, or wastewater, from approved drains in homes and businesses such as sinks, toilets, and showers, to a wastewater treatment plant.
Storm Sewer
The storm sewer is a system of pipes and channels designed to carry storm and ground water from streets, parking lots, roofs, driveways, sidewalks, etc., directly to drainage creeks, rivers, and/or detention basins.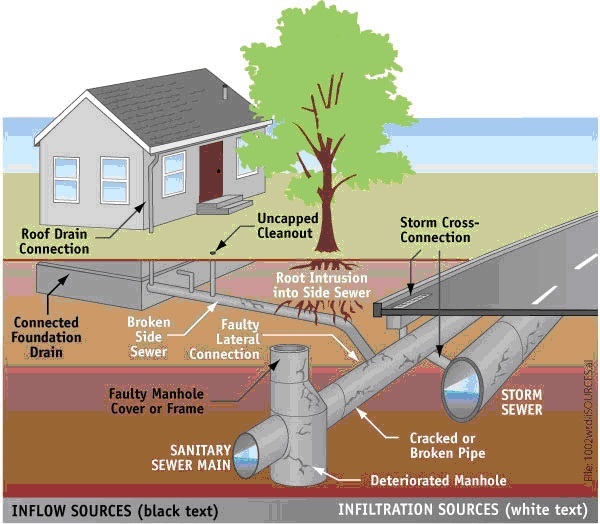 What is the Difference? Sanitary Sewer vs Storm Sewer
H2GO's sanitary sewer system is designed to carry wastewater from residences and businesses throughout the district's service area to the wastewater treatment plants. The sanitary sewer system is designed with the appropriate sized pipes to handle the removal of wastewater only, and does not have the capacity to handle additional water from storm and ground water sources.
The storm sewer system is designed to carry storm and ground water directly to natural drainage features such as creeks, streams, rivers, and/or lakes, or to man-made detention / retention facilities. The stormwater system is designed with much larger capacity pipes and drainage features to handle large volumes of water from rain, snow melt, and ground water sources. Storm and ground water is predominately clear water that does not need chemical or biological treatment before entering a natural or man-made drainage feature.
What Problems do I&I Cause?
During significant rain events, storm and ground water can find its way into the sanitary sewer system through Inflow and Infiltration. When this excess water enters the sanitary sewer system, it can create the following problems:
- I&I can increase the flow in the sanitary sewer system to a point beyond the designed capacity of the pipes. When the capacity of the pipes is exceeded, the excess wastewater looks for the lowest release point, which can lead to basement backups, and/or sanitary sewer manhole overflows.
- Storm and ground water that enters the sanitary sewer system is transported to the treatment plant and unnecessarily treated. This leads to higher treatment costs for the utility and its customers.
- If I&I are not addressed, the sanitary sewer pipes may have to be upsized to handle these peak flows to reduce backups and overflows. These projects are expensive and do not completely solve the problem as the excess storm water in the system is still being unnecessarily treated at a cost to H2GO and its customers.
What Are the Benefits of Removing Sources of I&I?
Depending on the type of I&I connection(s), just a couple of properties with sources of I&I can overload a sanitary sewer line during a rain event. When the line becomes overloaded, the wastewater looks for the lowest point to release the pressure building up in the pipe. This can be a basement drain or a sewer manhole. Although a property owner may have I&I connections on their property and never have a problem, they could be contributing to a sewer backup in the basement of a neighbor or the overflow of wastewater from a sewer manhole. Removing sources of I&I can help to reduce the occurrences of backups and overflows. Any reduction in the amount of storm water entering the sanitary sewer system is a public benefit to all H2GO customers. The benefits include:
Decreased occurrences of basement backups;
Reduced claims and claim related costs associated with backups;
Better protection of the environment from the impact of overflows;
Reduced treatment costs;
Increased capacity of the sanitary sewer system;
Reduced need for expensive projects to handle excess flow.
What is H2GO Doing to Reduce I&I?
Daily monitoring of all lift station operations via GuardDog lift station analyzer. During this review, staff evaluates pump run times, run cycles and draw down times to help identify potential I&I by comparing dry weather operations to wet weather conditions.
Comparing installed rain gauge readings with our GuardDog system to correlate rainfall at lift stations sub-basins with wet weather lift station operations for the purpose of identifying potential I&I.
Monitoring our own internal flow tracking spreadsheet that allows us to compare billed water usage (excluding irrigation) to monthly average wastewater flows within each sub-basin.
During wet weather conditions, our staff conducts field inspections of manholes, clean outs, and lift stations in order to visually see and/or audibly hear inflow sources tributary to the collection system.
Inspect and track temporary sewer plugs installed during new sewer line construction.
Inspect lateral connections and cleanup combo fittings installed with new building construction.
New sewer line extensions are inspected daily including all drain pans being placed in manholes. Final testing is done by air testing lines and/or vacuum testing manholes.
All new grinder tanks are inspected to ensure proper installation and being above grade to prevent flooding of grinder tanks in wet weather conditions.
What Can You Do?
Look for and check your sewer cleanup. The cleanup is usually a small pipe, about 4-inches in diameter, outside your house that is used to access the sewer lateral for cleaning. Make sure the cap to the cleanup pipe is not missing and has not been damaged (such as by a lawn mower);

Damaged Cap and Assembly

Undamaged Cap and Assembly

Check to see that outdoor patio, deck or yard drains, pool or pond overflow, rain gutters, and sump pumps, are not connected to the sewer;

Avoid planting trees and shrubs over or near the sewer laterals. This also applies to sewer mains that may be in yard easements. Roots can enter and damage sewers. This allows groundwater and rainwater to enter the sewer and also causes costly ongoing problems with sewer clogging, backups and spills;

If your area is experiencing flooding, NEVER try to drain the areas by removing the sewer manhole covers in the street or covers from your clean outs. The huge amount of flow that would enter the sewer system will definitely cause a problem downstream. Notify H2GO immediately if you observe or know of someone doing this.