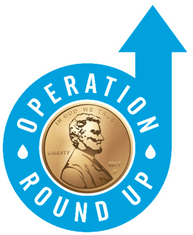 When you join Operation Round Up, your contributions help provide food, groceries, and educational opportunities that will benefit people in need throughout our service area and Brunswick County. As a voluntary contributor to Operation Round Up, you choose to have your monthly water bill rounded up to the next highest dollar amount. The difference between your actual bill and the next highest dollar is the amount of your donation.
For example:
If your monthly water bill is: $46.55
Your bill will be round up to: $47.00
Your Operation Round Up donation: 45 cents
Neighbors helping neighbors. This community was built on a helping hand, and we look forward to being able to continue that today. That spirit of cooperation and dedication to raising everyone's quality of life is the inspiration behind our community improvement program - Operation Round Up. Your monthly contribution could be as little as a penny, or as much as 99 cents - but that small amount makes a huge difference in the lives that it touches. Now is your opportunity to make a meaningful difference with your tax deductible contribution!
Program Overview:
Each customer's monthly Round Up contribution can be as little as a penny or as much as 99 cents. On average, a customer's contribution is $6.00 per year.
Your Round Up donation will be indicated on your monthly water bill.

All donations are tax deductible.

Opt out at any time. It's your choice.

All proceeds will go directly to our Community Partners. 100% of the contributions will go to assist those in need, with no administrative fees attached to this program.

Select Round Up PLUS and add an extra $1, $5 or $10 to the Round Up donation pass through.

If you would like to join Operation Round Up, please use the agreement form on the reverse side of this flyer, or visit our website HERE to submit or download the form. Please printed return form to our office.
Community Partner!
Brunswick Family Assistance (BFA)
Brunswick Family Assistance is a transformative, forward- looking and collaborative organization that helps low income people in Brunswick County to live a high quality of life. They envision a community where all people have access to an adequate and nutritious supply of food and sufficient resources to sustain themselves. BFA shall continue to be a leader in partnering with other organizations to help solve community problems. Brunswick Family Assistance is dedicated to improving the lives of families and individuals in crisis in Brunswick County, who are willing to help themselves, by providing emergency assistance and educational and skills development programs. By contributing to Operation Round Up, you will be helping your neighbors pay their water bills when they can't afford to. In 2022, Brunswick Family Assistance helped low income H2GO customers pay over $3,000 towards their water bills. They expect that number to continue growing. To learn more about Brunswick Family Assistance, you can visit their website at www.BrunswickFamily.org.
Our Goal:
The goal is to have at least a 40% customer participation rate. With this, we could garner an estimated $2,000 a month in donated funds, giving us $24,000 a year for these two deserving charities.