H2GO Customers Donate $4,800 to Brunswick Family Assistance
1/19/2023 3:11:54 PM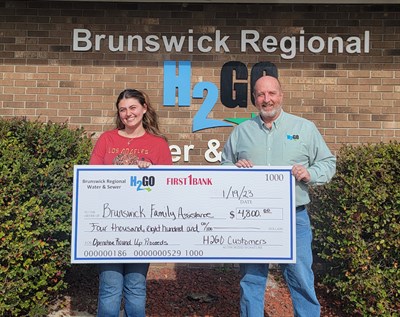 LELAND, NC – On January 19th, H2GO Executive Director, Bob Walker presented the H2GO Operation Round Up funds to Tyffanie Paganello, Community Outreach Administrator at Brunswick County Family Assistance (BFA) in the amount of $4,800. BFA is a transformative, forward-looking, and collaborative organization that helps low-income people in Brunswick County to live a high quality of life since 1981.

The proceeds, donated by registered H2GO customers rounding up their monthly bills or providing a whole dollar amount, will go towards helping to pay water bills of low-income families in the H2GO district. Last year, BFA helped low-income H2GO customers pay over $3,000 towards their water bills.

"We continue providing Brunswick Family Assistance with proceeds to help pay for low-income H2GO customers. Our goal is to help all low-income H2GO customers when they need assistance," says Stephanie Blair, H2GO Communications Director. "H2GO is currently undergoing a billing software change, which may adjust how H2GO customers sign up for the Operation Round Up program. There will be more details on that in the near future."
For media inquiries or interview requests, please contact Communications Director Stephanie Blair at sblair@H2GOonline.com or (910) 371-9949, ext. 1008.