Education
Brunswick Regional Water & Sewer H2GOAdopt-A-Hydrant Program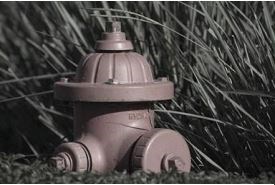 Did you know that hidden hydrants are a safety concern? Is your dog the only one who knows where the neighborhood fire hydrant is? Hopefully not! Fire crews need to quickly find the nearest hydrant if there is a fire. Hidden hydrants cause needless delays.
Brunswick Regional Water & Sewer H2GO and the Leland Fire & Rescue Department is asking for your partnership in our AdoptA-Hydrant program by adopting a fire hydrant close to your home or business and keeping it free of vegetation, shrubbery, and other obstructions. Check to see if you have a hydrant in your front yard or somewhere on your property line. Then check to see that it is clear of vegetation and structures which may obstruct the hydrant.
In the event of a fire it is imperative that the Fire Department gain access to a water supply via a fire hydrant as quickly as possible so that fires can be extinguished to prevent/minimize loss of property and/or life.
You can help H2GO and the Fire Department in this quest by adopting a hydrant and making sure that it is easily accessible throughout the year. Maintain a path approximately three feet around the hydrant as well as a clear path from the street or roadway up to the fire hydrant so that the hydrant is visible and accessible. Crews need the area 3 feet around the hydrant to be clear. This is so they can perform maintenance, and have access to easily hook up to the hydrant in the event of a fire
It is important to make sure that your adopted hydrant is free of all obstructions including weeds, shrubbery, flowerbeds, posts, fences, and trash.
Finding a hydrant easily can make a huge difference in response time for the Fire Department. That is why the fire code requires 150 foot visibility from the street. Take a few minutes to stand 150 feet back from the hydrant and check to see that it is visible in both directions. Not visible? Take time to clear that vegetation - help make your neighborhood a little safer.
Please consider removal of hydrant obstructions for your neighbors who may have medical conditions, disabilities, or those who are elderly that may be unable to do so themselves. This act of kindness will benefit the entire neighborhood.
Your participation in this program and maintenance of the area around your adopted hydrant saves time in the Fire Department's incident response - and time is very valuable. The house you help to save may be your own.
If you notice that a fire hydrant is damaged, missing caps, leaking water, or if it is blocked or obstructed in any way, please notify H2GO. Not sure how much vegetation to remove? Give H2GO a call at 910-371-9949. We are here to help. If you have any questions or comments, please contact us.
Thank you for your cooperation and participation in our Adopt-A-Hydrant program.
Sincerely
Bob Walker
Executive Director
Brunswick Regional Water & Sewer H2GO
910-371-9949
/adopt-a-hydrant