H2GO Customers Keep Nearly 1,400 Gallons of Cooking Oil Out of Sewers
3/23/2017 11:20:41 AM
In 2015, H2GO recognized a growing environmental problem. Sewers were beginning to become filled with fats, oils and grease. Not only was this causing problems with the sewers, but it was causing problems within homeowners plumbing and home sewer systems. The next issue H2GO had to look at, there wasn't any sustainable solutions in the area to dispose of the fats, oils and grease. That is when they created the C.O.R.E (Cooking Oil Recycling Effort).
C.O.R.E allows homeowners to avoid pouring the grease down the drains and gives them the opportunity to take a C.O.R.E container from one of H2GO's fifteen collection sites and fill it with their grease. The homeowners can then return it to the collection site where H2GO will then properly dispose of it to be recycled into biofuels. Canola oil, coconut oil, corn oil, grape seed oil, olive oil, palm oil, peanut oil, soybean oil, safflower oil, sesame oil, sunflower oil, vegetable oil, and meat grease are all accepted at these collection sites. H2GO asks that users always cool down the grease before storing it so that it does not melt the containers. The cooking oil residents recycle will help reduce sanitary sewer problems, home plumbing and sewer problems and will create sustainable and eco-friendly biofuel.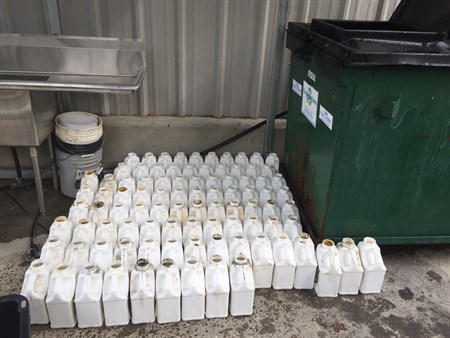 To date, H2GO customers have kept nearly 1,400 gallons of cooking oil out of our sewers and have saved thousands of dollars in home repairs. 1,400 gallons is equivalent to about 33 oil barrels. "Our customers consistently show their desire to help. We receive nearly 100 containers of cooking oil monthly. Our field crews continually notice a decrease of grease build-up in some of our pump stations," says Tyler Wittkofsky, H2GO's Public Information Officer. H2GO customers are making the difference in saving the environment with their cooking oil recycling efforts. If you want to join your fellow citizens in recycling cooking oil and grease, you can visit one of their collection sites located at: H2GO's Main Office, North Brunswick Shopping Center, Waterford Commercial Center, Backyard Feeds, Brunswick Pointe and Egret Pointe Apartments and The Arbors at Westgate.