In a town whose motto is "People working for People", Navassa is working with Habitat for Humanity to bring a Habitat Home to Church Street. Habitat Homes bring safe and affordable homes for people in need. However, Navassa hit a snag trying to connect sewer to the lot when they could not find where to tie in the sewer system. The problem arose when contractors were cleaning out the lot for the Habitat Home and the concrete donuts were removed and sewer connection covered with dirt. Not being able to locate a sewer connection provides a major hiccup when trying to build anything. Mayor Eulis Willis strongly believes in his town's motto and reached out to H2GO Executive Director Bob Walker for assistance. Mr. Walker also believes in 'people helping people' and assured Mayor Willis that H2GO would help them locate their connection.
On February 3rd, shortly after the phone exchange between Mayor Willis and Mr. Walker, H2GO's Steve Hall and Keith Gore went to the lot on Church Street with their sewer camera. They dropped the sewer camera into the nearest manhole and ran it through the mainline to locate the lateral connection that connects the main sewer to the lot's sewer. By doing this, they were able to measure out the distance between the nearest manhole and where the camera showed the lateral connection underground. After they located the lateral connection and calculated the distance, they begin to search for the end of the connection with probes and began to dig to expose the connection. In a team effort between H2GO's team and Navassa's Willie Byrd, they were able to expose the connection and allow crews to continue construction and connect the sewer.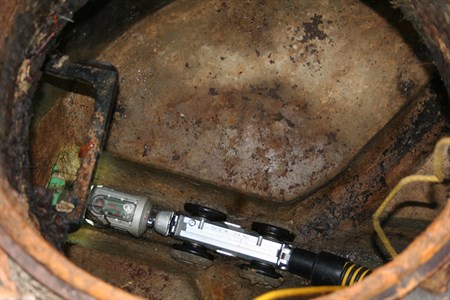 H2GO believes in helping not only its community, but all surrounding communities. "The Habitat Home is an important project for our community. When Mayor Willis reached out to us for help, we were more than happy to accommodate," says Tyler Wittkofsky, H2GO Public Information Officer. Navassa has provided H2GO with a helping hand in the past and it was merely a matter of giving life to "people helping people" that inspired H2GO to lend their assistance to Habitat for Humanity and Navassa.